The British Bluebell is probably one of Britain's best known wildflowers and is one of my favourite times of the year to photograph children and families. No-one can fail to marvel at the beautiful sight of a spring woodland carpeted in blue, which often signifies the start of the warmer weather and lighter evenings!
The Bluebells normally appear from mid April to mid May and because of their fleeting appearance, Bluebell photo shoots are often very popular at this time of year. But, we have to be careful too, as the British Bluebell is a protected species and it's very important not to trample or pick the Bluebells when on location.
Top Bluebell Facts
Bluebells are often called fairy flowers – it's easy to see why as they are simply magical!
Bluebells are protected under law
It takes at least 5 years for a Bluebell seed to grow into a bulb
Up to 45% of the Worlds Bluebell population are found in the UK
The most popular meaning of Bluebells is gratitude. It is also associated with everlasting love.
Thinking of booking a Bluebell photo shoot?
Here's a short video to give you a flavour of my work and the fun we have on location.
I'll be running my 2018 Bluebell photo shoots on:
Saturday 21 and Sunday 22 April
Saturday 28 and Sunday 29 April
PLUS MIDWEEK MINI'S Friday 27 April
Sessions from 10pm – 4pm : See packages available here
Midweek mini sessions from 9.30am – 11.30am (see below)
Midweek Minis: for children 9 months – 5 years.
– A 30 minute session
– Includes a 10×8 print (from a choice of 5 images).
– Additional prints and digital images are available to purchase.
– 7×5 prints – £6.99, 10×8 prints – £8.99
– Digital images – £9.99 per image.
NEW for 2018: LIVE Calendar. You can now book your Bluebell photo shoot in just a few clicks using my new live calendar.
Planning your Bluebell photo shoot with Amanda Powell Photography
Photographing children and family portraits in the Bluebells is one of my favourite times of year, but I do advise my clients to:
Remember to bring suitable footwear as the ground is often wet. We may need to walk 5 minutes before we reach our location.
Don't worry about sitting on muddy or wet woodland floors, I'll make sure we use the waterproof mats.
For little girls, perhaps bring a couple of outfit changes. Floaty dresses or skirts are perfect (but remember to bring warm clothes or a fluffy shrug for in between shots).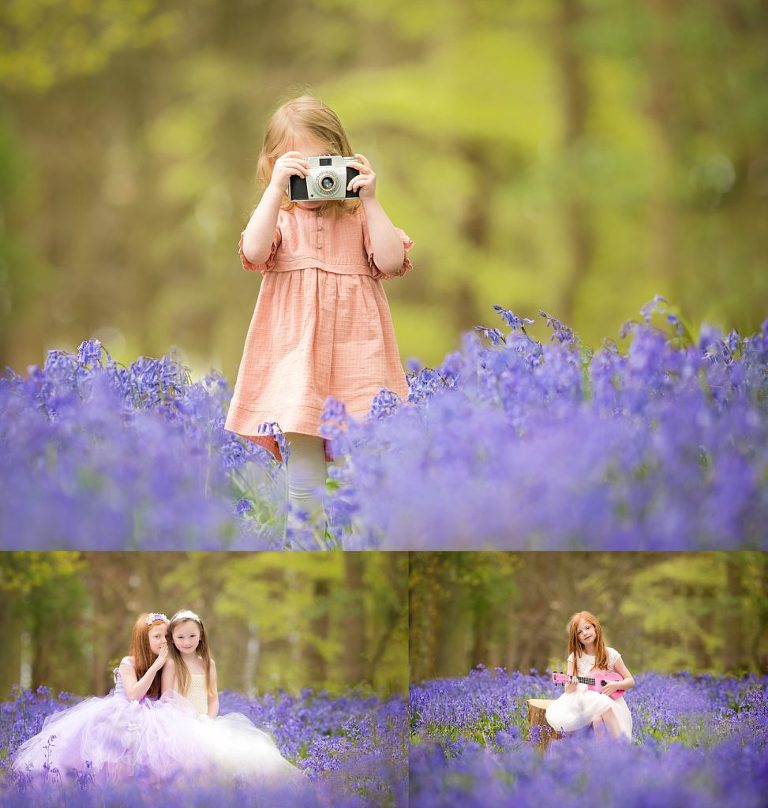 Where to find the Bluebells
Locally, you'll find the Bluebells absolutely beautiful at Ashridge in Buckinghamshire. Take lots of walks with the family too, as there are often hidden displays in local woods and country parks. Tip: They tend to like ancient woodland and shaded areas!
Get online too, as generally in April – there's lots of people on Bluebell watch!
The Woodland Trust have a handy map for reporting sightings and search #bluebellwatch on Twitter.